Moving the commercial real estate industry forward.
Diversity, Equity, and Inclusion are a top priority for the industry. A more diverse workforce makes a better industry and NAIOP is committed to achieving this goal. Listed below are several resources available to NAIOP members and industry professionals.

CREST - COLLEGE INTERNSHIP PROGRAM
The Commercial Real Estate Success Training (CREST) Program is designed to attract, and offer summer internships to a diverse range of women and minority students who will be placed with CRE companies.  The program, completed its 4th year this summer successfully creating a new hybird model of an online and in person experience.  The CREST program is an essential program, which is helping build a diverse pipeline of talent for our industry. You can support CREST in several ways: ​
Commit to participating as an employer in CREST 2021.
Consider making a contribution to ensure the continued viability of this valuable program.
Lastly, your firm can commit to being part of the ongoing conversation about CREST through sponsorship.
For more information and to support CREST please contact Milton Benjamin or Dakota Jones.

REEX
REEX Summer Programs is a unique academic-intensive experience for high school students created to expose teens of color to a variety of colleges and career opportunities in commercial real estate.
Transforming an Industry: How the Federal Reserve made Inclusion a Priority
Why CRE Needs to Listen, Learn and Change ​
On August 10th, over 300 CRE professionals joined Kirk A. Sykes, Managing Partner at Accordia Partners LLC and former Chairman of the Federal Reserve Bank of Boston and current member of the External Diversity Advisory Board, and Marques Benton, Vice President, Chief Diversity Officer and Office of Minority and Women Inclusion (OMWI) Director at the Federal Reserve Bank of Boston, for an important discussion on how and why the Boston Fed adopted a multi-pronged strategy for change.
During this candid conversation, Benton and Sykes outlined the Boston Fed's successful 5 Step Inclusivity Strategy. As CRE remains focused on the need to dramatically expand DEI, small incremental change is no longer enough.
Join the conversation: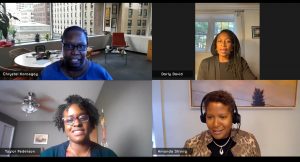 Leveling the Landscape: A Candid Discussion with Underrepresented Genders in the Industry
On October 14, panelists addressed the importance of gender and racial diversity in the workplace. Darly David, Chrystal Kornegay, Taylor Pederson and Amanda Strong shared their stories and discussed how they thoughtfully contribute to an inclusive environment where collaboration and empathy help to drive culture.
Minority Owned Businesses
The City of Boston provides a searchable database of minority and women owned businesses, available here.

AAREP NEW ENGLAND
AAREP-NE's mission is to increase the population, influence, and stature of professionals of color at all levels within Greater Boston CRE.

BUILDERS OF COLOR COALITION
The Builders of Color Coalition (BCC) convenes minority real estate professionals in Greater Boston's building sector for the purposes of mutual professional development and leveraged access to development projects.

REAL ESTATE EXECUTIVE COUNCIL
The Real Estate Executive Council (REEC)  is the leading professional trade association formed to promote the interests of minority executives doing business in the commercial real estate industry.

YW BOSTON
YWCA Boston is dedicated to eliminating racism, empowering women, and promoting peace, justice, freedom and dignity for all. YW Boston is systemically working for social, racial and gender equity.


THE COMMONS PODCAST - Listen
The Commons host Tom Osha and Wexford Science & Technology Chief Community Officer, Travis Sheridan, cover a wide range of questions regarding racial equity, social justice, and economic mobility with Kirk Sykes, Managing Director of Accordia Partners, LLC, a Boston based real estate investment and development company.
Sykes is also a former chairman of the Federal Reserve Bank of Boston where he was instrumental in creating the Office of Minority and Women Inclusion. The conversation also explores opportunities and programs for making real estate development a more inclusive industry.
GREATER BOSTON CHAMBER OF COMMERCE PACESETTERS PROGRAM
NAIOP Massachusetts has partnered with the Greater Boston Chamber of Commerce's Pacesetters program to further the business community's collective vision to help close the racial wealth gap and eliminate systemic barriers to wealth building opportunities.
We encourage our member-companies to join us in our commitment by becoming a signatory.
NAIOP members who choose to become signatories would pay a deeply discounted fee ranging from $500- $1000 to participate in the Pacesetters Program. Signatories are required to commit to Pacesetters' goals for equity and inclusion and participate in annual data-sharing regarding their own procurement practices. Learn more about becoming a signatory.
Contact NAIOP Massachusetts
For more information, contact Taylor Pederson, Vice President of Programs and Education.