Strengthening the industry through advocacy.
NAIOP represents the interests of the commercial real estate industry at the federal, state, and local levels. Through regulatory, legislative, and judicial advocacy, NAIOP works to advance economic development, strengthen communities, and ensure that issues facing the industry are understood by leading policymakers.
See NAIOP in action. Review the 2021 Government Affairs Accomplishments.
Interested in shaping NAIOP's advocacy work? NAIOP members are encouraged to join the Government Affairs Committee. For more information, contact Anastasia Nicolaou, NAIOP's VP of Policy & Public Affairs.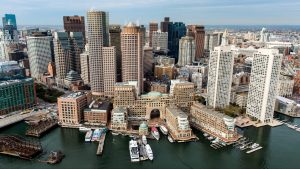 With a new gubernatorial administration comes new opportunities to shape the future of Massachusetts. As we look ahead to 2023, there is little doubt that it will be a difficult year for businesses. The incoming Healey-Driscoll administration must be a partner with the business community to ensure that safeguards are in place so the commonwealth can weather the economic storm. Only together can we work to secure the livelihoods and futures of Massachusetts' residents and businesses.